MHS Bestows Prestigious Heritage Awards
Montana Historical Society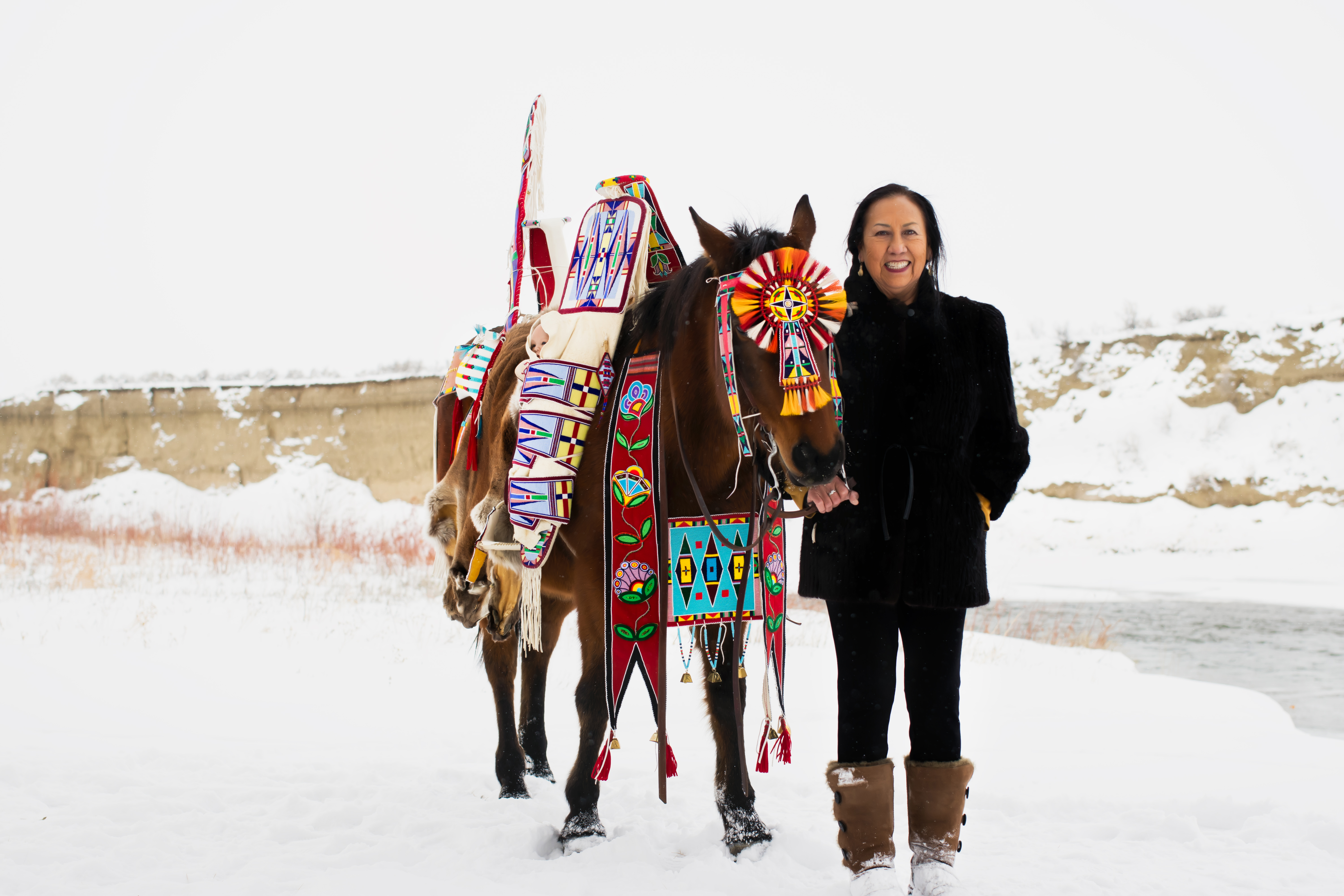 Bev and Gene Allen, Birdie Real Bird, and Bud Cheff Jr. are the 2021 Heritage Award honorees, with A&E Design earning special recognition as the 2021 Heritage Guardian.
The Montana Historical Society Board of Trustees chose the Heritage Keepers and Guardian from a large field of nominees, noting that they were all high-caliber but these five rose to the top based on their contributions to Montana history.
"This was a phenomenal batch of nominees, and any would be worthy," said longtime board member Thomas Nygard. "To have to try to pick somebody out of this bunch wasn't an easy task, but these five are truly the keepers of Montana's heritage."
The annual awards honor exemplary commitment, effort, and impact in identifying, preserving, and presenting Montana's historical and cultural heritage for current and future generations. Up to three Heritage Keeper awards are given out each year.  Additionally, the Montana Heritage Guardian Award recognizes the record of accomplishment of one of the nominees, but the board reserves the right to not award it each year unless warranted by the record of outstanding achievements.
A&E Design includes a team of specialists who have dedicated their careers to historic preservation. On projects including the Bluebird Building in Missoula, the Daly Mansion in Hamilton, the State Capitol Building in Helena, and the Old Faithful Inn in Yellowstone National Park, the 50-year-old company always shows its passion for ensuring that future generations view our history through the unique lens of our historic structures.
A&E Design has offices in Billings, Bozeman, Missoula, Kalispell, and Seattle.
"Thanks to the vision of Jim McDonald, Jim Bos and the other founding partners, A&E has made it their mission and their avocation to champion the preservation of our state's significant historic places," Chere Jiusto, executive director of Preserve Montana, wrote in a letter of support. "They have also committed their personal time and energies to strengthen and support the educational and non-profit cultural sector in our state."
Heritage Keeper Bud Cheff, Jr., is a storyteller of the highest caliber and one of the founders of the non-profit Ninepipes Museum of Early Montana. As a young boy in the Mission Valley, Cheff spent many evenings listening to elders' tales of adventure and legends, which kindled his lifelong passion for preserving the past and his cultural heritage.
"With great personal expense and labor, he and his wife Laurel have created the best collection of cultural and historical items displayed in Northwest Montana," wrote Ronald Merwin in a letter of support. "The success of Bud's passion can be realized when one reads the reviews of the visitors who pass through the museum."
Birdie Real Bird of Garyowen taught Crow tradition and culture at Crow Agency for many years. She is nationally renowned for her beadwork and traditional Crow dolls, which help provide a glimpse into the lives of indigenous people of Montana. But perhaps most importantly, she was director of the Montana Indian Language Preservation Program and helped create the Crow Apsaalooke language app to help teach traditional language.
"She joined other fluent Crow speakers to transcribe and translate Crow words, recording traditional Crow songs, and gathering pictures, which were used to create the Crow language app, released in 2015," Martha Kohn and Deb Mitchell wrote in the nominating form. "Birdie has spent her life preserving, creating, and sharing her culture."
Bev and Gene Allen of Helena are history devotees who amassed an expansive collection of Western and Montana-based books, art and photographs that is respected by researchers, authors, other collectors, and museums across the west. They also have the best collection of L.A. Huffman's eastern Montana photographic prints and ephemera.
"The large number of Huffman photographs in  the Allens' collection encourages us to ponder the transitions chronicled – old ways to new ways and their ramifications to the land and to the people of this area," wrote Ann Ripley in the nominating form. "By creating this collection, the Allens have provided to all a cohesive body of visual history."