Billings Home Nominated for Listing in National Register of Historic Places
Montana Historical Society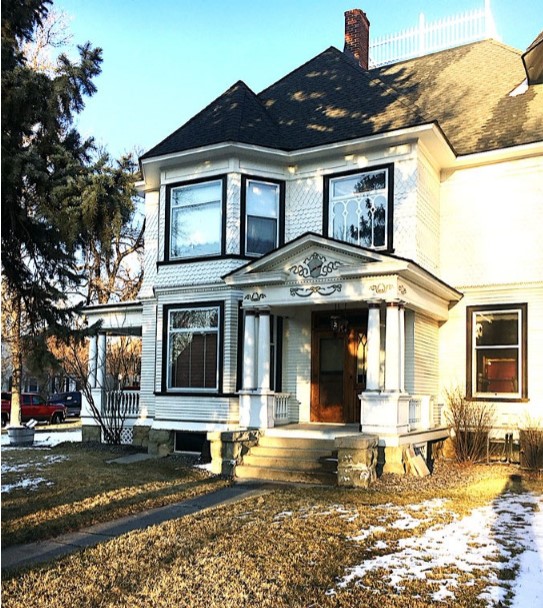 The home of one of Billings' foremost architects in the early 1900s is being recommended for inclusion in the National Register of Historic Places.
The former home of John G. Link and his family originally was located about half a mile away, at 205 No. 29th St., and was constructed in 1889 by David and Kate Fratt. Link had it moved to the current location at the corner of Clark Avenue and 2nd St. West in 1922, away from the burgeoning downtown Billings business district.
Link was a partner with C.S. Haire, and together they designed numerous historic buildings, including the Billings City Hall, St. Patrick's Church, the Western Heritage Center, and additions to Montana's State Capitol building in Helena.
The nomination calls out the home as a "Late Victorian Queen Anne Free Classic style" home. It was split in two for the move to the affluent West Side neighborhood, and set upon its new foundation with its plumbing, radiators and windows still intact.
"This architectural 'Highbrow' style was popularized back in England in the 1860s, later on the East Coast, and was transported west as popular taste in architecture, furniture, art, fashion and literature followed settlement and development patterns into areas like Billings," said John Boughton, Montana's National Register Coordinator with the State Historic Preservation Office. "Travel was a key component for defining the new 'taste' that influenced the diversity of imitation and pattern language incorporated into popular style, as well as knowledge gained from pattern book details and magazines."
No exterior changes or alterations to the house are known to have occurred since its construction and subsequent move. Interior changes were made for safety reasons and to make the house more livable.
On Sept. 16, the Montana State Historic Preservation Review Board unanimously voted to recommend inclusion of the home on the federal register. The nomination now goes before the National Park Service, which reviews nominations and lists eligible properties in the National Register. Qualified properties can receive preservation benefits and incentives.
The present owners, Nathan and Janna Allie, acquired the house in 2007.
For more information, contact John Boughton at 406/444-3647 or jboughton@mt.gov; or Eve Byron, MHS public information officer, at 406/444-6843 or eve.byron@mt.gov