Gov. Gianforte Tours Willow Creek Fire Site, Receives Briefing
Governor reminds Montanans to be fire prepared, prevent wildfires
THREE FORKS, Mont. – Governor Greg Gianforte today toured the Willow Creek Fire site and received a briefing from incident command on the scene.
"I thank our first responders who were prepared to aggressively suppress the fire and minimize its impact," said Gov. Gianforte. "After receiving the 2021 Fire Season Briefing this week, I reaffirmed the state's commitment to an aggressive initial response to wildfires and to improving our forest management to pro-actively reduce the risks of catastrophic wildfires."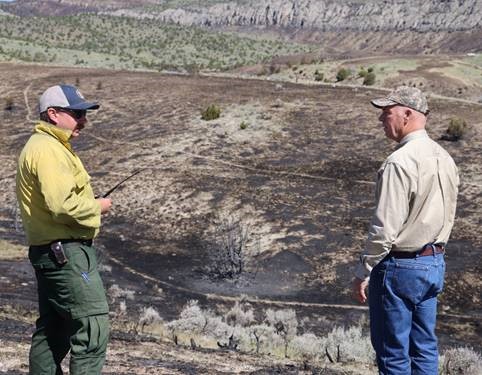 Gov. Gianforte (r) and Cory Calnan (l), county coop program manager for the DNRC, surveying the Willow Creek Fire site
The Jefferson County Sheriff's Office ruled the fire's cause is human.
"It's critical that we all work together and do our part to prevent wildfires and reduce the burden on our firefighting resources," Gov. Gianforte said.
According to the Montana Department of Natural Resources & Conservation (DNRC), the fire burned in grass, brush, and timber. Yesterday, the fire held through the high winds and did not grow. As of this morning, the DNRC reported the Willow Creek Fire is approximately 350 acres in size and is 10 percent contained.
According to the DNRC, more than 125 total personnel are continuing to secure the fire's perimeter and begin mop-up operations with the goal of completing 2-chains (132 feet in from the fires edge) by end of shift today.
There are no reports of injury or structures burned.
Visit wildfirerisk.org for resources on how to prevent wildfire.
###