Governor Gianforte Unveils Education Agenda To Support Students, Parents, Teachers
GREAT FALLS, Mont. – Joined by students, parents, teachers, and administrators for a roundtable discussion on education at Great Falls High School, Governor Greg Gianforte today unveiled elements of his pro-student, pro-parent, and pro-teacher education agenda for 2023.
"We all want what's best for Montana kids and believe they should receive the best possible education so they may reach their full, outstanding potential," Gov. Gianforte said. "Let's support individualized learning, civics education, and other innovative approaches to education. Let's ensure parents are involved in their kids' education and teachers have the resources they need to help our kids thrive."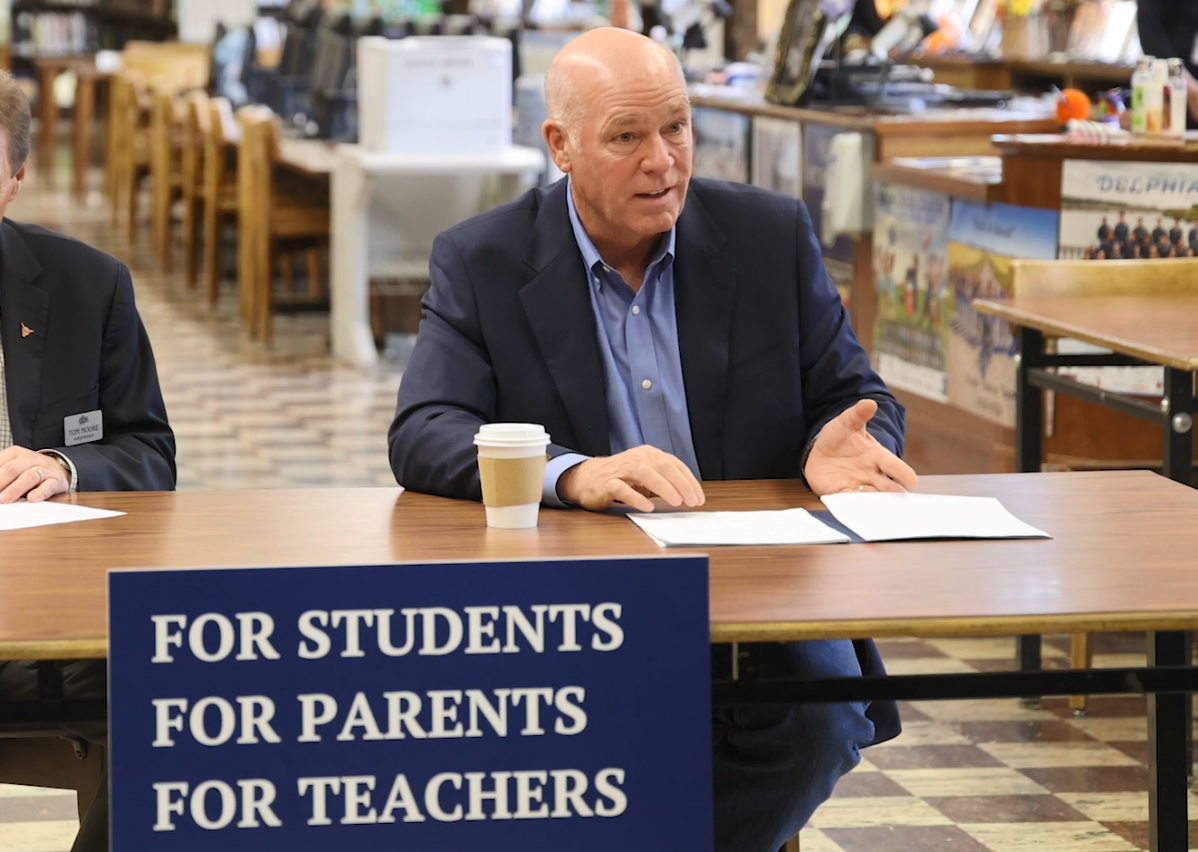 Gov. Gianforte shares elements of his education agenda with parents, students, and teachers at Great Falls High School
During the roundtable, the governor emphasized his support of individualized learning, civics education, parental involvement in education, and providing Montana educators the resources they need to succeed.
"Each child is unique, and we should ensure each child has access to the best education possible that meets his or her individual needs. Student success, and ultimately the future of Montana, depends on classroom innovation, individualized learning, and work-based learning," the governor said, committing to working with legislators to expand these learning opportunities.
The governor praised work-based learning opportunities in Glasgow, where students may take Certified Nursing Assistant (CNA) classes, earn dual credit, train at assisted living facilities, and graduate with a CNA certificate with Miles Community College.
He also highlighted the Montana Digital Academy, which allows students access to classes which might not be offered in their school. "Working with the legislature, we will reform the Digital Academy to open the doors of opportunity to even more for students," the governor said.
Governor Gianforte also stressed the importance of civics, personal finance, and computer science education for Montana students.
"Our students should learn about our proud history and the sacrifices and struggles of the men and women who founded and formed this great nation," the governor said. "They should also graduate with a knowledge of personal finance so they can be financially literate – understanding budgeting, paying bills, paying taxes, saving, and navigating debt."
Working with both parents and teachers is critical to delivering the best education to Montana students, the governor emphasized.
"Parents are our kids' first and lifetime teachers," Gov. Gianforte said, joined by four parents at the roundtable. "As they educate their kids at home, they deserve to have their voices heard and to be a part of their kids' education."
The governor also thanked and praised teachers, reiterating his support for boosting teacher pay and streamlining licensure to develop a stronger, more robust educator workforce.
"To the teachers in the room, thank you. Teaching our kids is a calling," the governor said. "My mom was a math teacher, and now my daughter is. So I know how challenging, and fulfilling, the work is."
In 2021, the governor championed and signed into law the TEACH Act as part of his Montana Comeback Plan, providing incentives for school districts to increase starting teacher pay.
Today, the governor committed to work with legislators to build on that success and improve the TEACH Act, so starting teachers in Montana can earn more as they begin their careers in Montana classrooms.
The governor also acknowledged the teacher shortage the nation faces. Over the last year, the governor has championed reforms to bring more highly-qualified teachers into the classroom. In April, Gov. Gianforte urged the Board of Public Education to streamline educator licensure to improve the recruitment of high-quality teachers for our Montana students.
"It's just as critical we address the teacher shortage we face, a shortage that impacts every state in our nation," Gov Gianforte said. "The reforms will help develop a stronger, more robust educator workforce, create greater opportunities for more Montanans, and help our students reach their full, outstanding potential."
After the roundtable, the governor met with Montana History Teacher of the Year Eric Chaon and his class.
###