Governor Gianforte Unveils Agenda to Increase Housing Supply and Build a Stronger Workforce
BOZEMAN, Mont. – At a high-density housing construction site in Bozeman, Governor Greg Gianforte today unveiled elements of his agenda to increase Montanans' access to affordable, attainable housing and build a stronger workforce.
"Faced with a shortage of housing supply, hardworking Montanans struggle to own or rent a home, and to increase housing supply, we need highly-skilled workers," Governor Gianforte said. "This informs our strategies as we work to build a stronger future where Montanans can better afford to live in the communities where they work."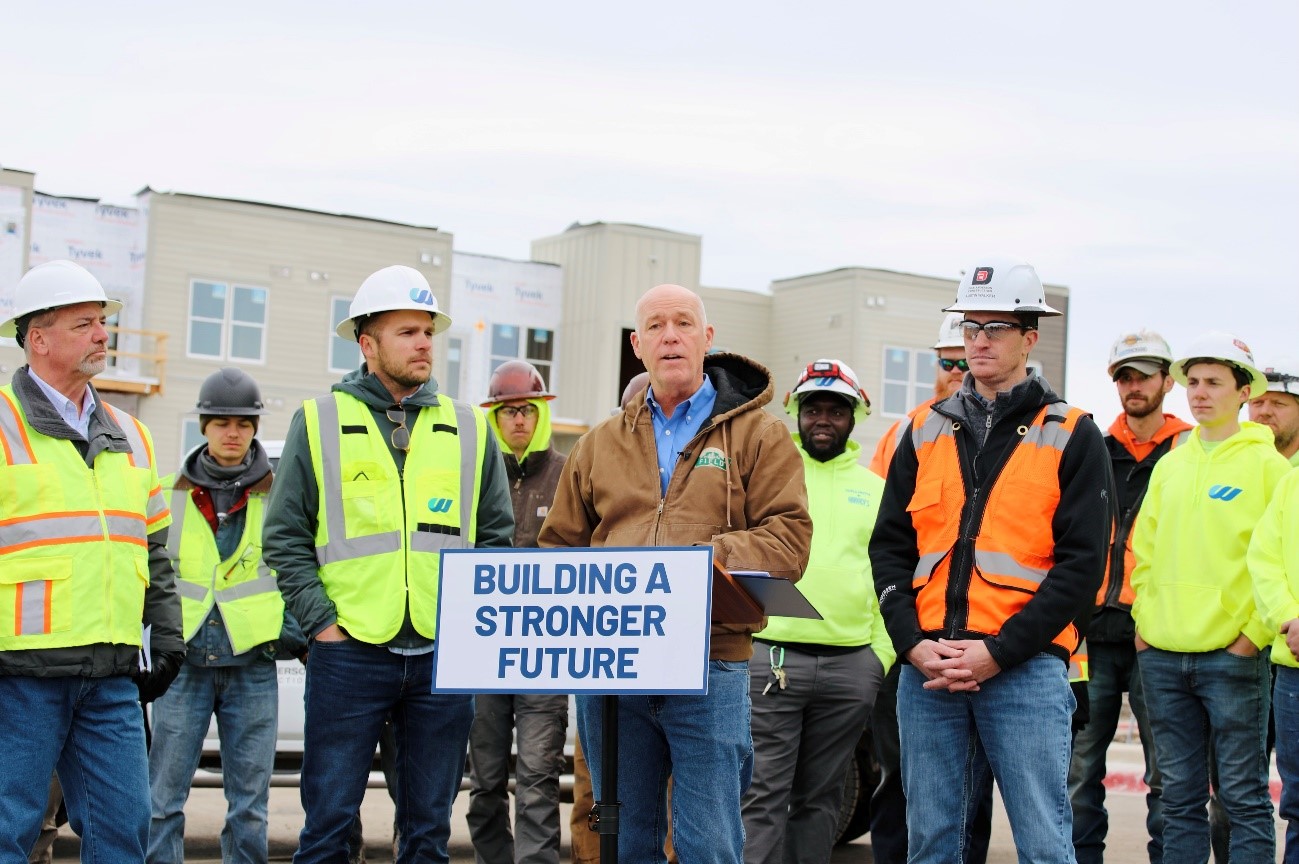 Gov. Gianforte joins industry leaders and apprentices to preview elements of his 2023 agenda
Spearheading state efforts to resolve the housing supply shortage, Governor Gianforte highlighted the work of the bipartisan and diverse Housing Task Force he launched in July. The task force produced the first of its two reports on October 14.
"Working together, they've delivered a series of strategies to address the longstanding shortage of housing in Montana, a shortage that continues to drive up prices Montanans pay for their home," the governor said, highlighting high-density housing projects and zoning reform as two strategies to address the shortage.
"Working with legislators to implement many of the ideas of the Housing Task Force will be one of our top focuses next year," he said.
Governor Gianforte also emphasized the need to continue to focus on workforce development, particularly in construction and the trades.
Under the governor's leadership, Montana is experiencing record apprenticeship growth, adding nearly 900 new apprentices to date this year. Many were added following a rule change championed by the governor, which revised the previous journeyman to apprentice ratio of 2:1 to 1:2, while preserving workplace safety and training standards.
"We already have more new plumbers and carpenters than in any previous year. We have three times as many new electrical power line apprentices than in any previous year. And we have more apprentices on the job, earning while they learn, than ever before," the governor said.
Montana's Registered Apprenticeship program, administered by the Department of Labor & Industry, enables workers to receive paid, supervised, on-the-job training in more than 100 different occupations across Montana.
Two employer sponsors participating in the program, Dick Anderson Construction and Williams Plumbing and Heating, joined the governor for the press conference.
"The governor highlights a huge need in Montana – there's so much demand for building and not enough people to do it. Dick Anderson Construction couldn't exist without skilled tradesmen, and our thanks goes out to them," Austin Walker, senior project manager for Dick Anderson Construction said.
Quin Williams, president of Williams Plumbing and Heating, added, "We've seen incredible growth in our apprenticeship program by adding 30 new apprentices in the last five months, which doubled our program. This is continuing to strengthen our company's workforce by training up great plumbers from within."
Beyond housing, the governor underscored the need for skilled workers to modernize Montana's infrastructure.
"We've made historic infrastructure investments over the last year, including broadband, water, and sewer," the governor said. "Ultimately, these investments will help us increase housing capacity, but we need the skilled workforce to make these projects a reality."
David Smith, executive director of the Montana Contractors' Association, echoed the governor's comments, highlighting the demand for plumbers, electricians, and carpenters in Montana.
Working with legislators to boost the trades and promoting careers in construction remain among the governor's top priorities.
"As we know, a four-year college degree is not for every young Montanan," the governor emphasized. "There are great-paying, in-demand careers available today for Montanans who want to help build a stronger future for Montana."
Montanans interested in learning more about apprenticeship opportunities available in Montana can visit apprenticeship.mt.gov.
###