Governor Gianforte Signs Pro-Freedom, Pro-Free Enterprise Bills Into Law
BELGRADE, Mont. – At a firearms manufacturer in Gallatin County, Governor Greg Gianforte today signed two bills into law to protect Montanans' retirement security from Environmental, Social, and Governance (ESG) investing and Montana's firearms industry from discrimination.
"Activist, woke capitalism through ESG investing is trending on Wall Street. It won't fly in Montana, and neither will efforts by woke banks to discriminate against gun manufacturers," Gov. Gianforte said.
He continued, "Our right to keep and bear arms is part of our state and nation's rich heritage. Law-abiding gun owners should not be targeted by financial institutions, like the big banks who adhere to ESG principles, just for exercising their Second Amendment rights."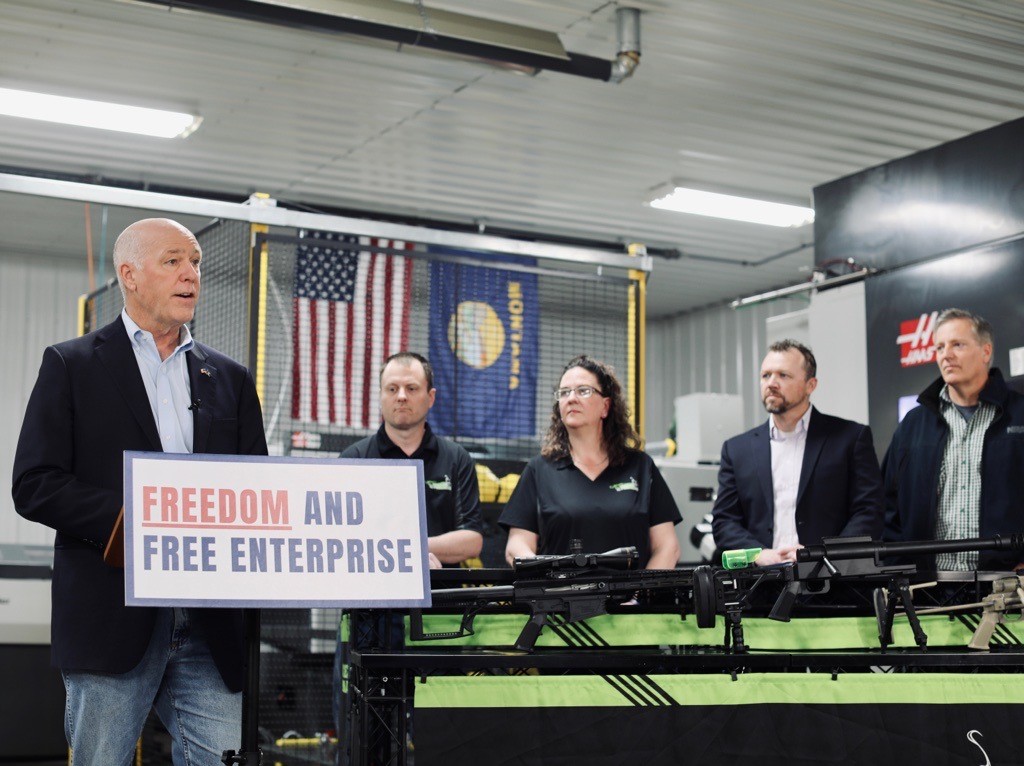 Gov. Gianforte discussing protecting Second Amendment rights with, from left to right, Phil and Erin Noreen (Noreen Firearms), Nephi Cole (NSSF), and Brian Gosch (NRA)
ESG investing prioritizes environmental, social, and governance investment principles over traditional investment principles designed to maximize shareholder returns. ESG investing discriminates against many industries, including the firearms industry.
Taking on ESG investing, the governor in January announced the State of Montana reaffirmed its commitment to maximizing shareholder returns on the over $26 billion in investments of the state's financial assets.
"On my watch, we will never undermine taxpayers' returns on investment in favor of activist, woke capitalism through ESG investing," the governor said, before signing House Bill 228 into law.
Sponsored by Rep. Terry Moore, R-Billings, HB 228 prohibits consideration of nonpecuniary factors for public investments.
The governor also signed into law House Bill 356, carried by Rep. Brandon Ler, R-Savage, which establishes firearms industry nondiscrimination.
"The firearms and ammunition industries are a part of the fabric of our communities and way of life. HB 356 will help protect businesses like Noreen Firearms, preventing government entities from contracting with companies that discriminate against the firearms industry," Gov. Gianforte said.
Erin Noreen with Noreen Firearms added, "I want to thank the governor and lawmakers for fighting for our Second Amendment rights. Without them, businesses like ours couldn't survive."
Brian Gosch with the National Rifle Association and Nephi Cole with the National Shooting Sports Foundation also joined the governor for the bill signing.
"Whether during his time in Congress or as governor, Governor Gianforte has been a true leader for the Second Amendment and supporter of Second Amendment rights," Gosch said.
Cole added, "In the last few years, woke, corporate activists have sought to unfairly deny basic access to critical business infrastructure all because they support an industry they don't agree with. It takes enormous courage to stand up to big business. It takes courage to push back. I appreciate Governor Gianforte's leadership in doing both."
Gov. Gianforte highlighted three other pro-freedom, pro-free enterprise bills on their way to his desk.
SB 359, sponsored by Sen. Terry Vermeire, R-Anaconda, prohibits unjust tracking of firearms sales by financial institutions.
SB 400, sponsored by Sen. John Fuller, R-Kalispell, increases the length of time a concealed weapons permit is valid – from four years to five.
HB 674, brought by Rep. Kerri Seekins-Crowe, R-Billings, creates the option of an enhanced carry permit and allows Montanans to exercise their right to carry throughout the country.
"As I continue leading our great state, we'll keep doing what's right for Montana," Gov. Gianforte concluded. "We'll keep Montana a sanctuary for freedom and free enterprise. And above all, we'll always protect the freedoms that make our state the Last Best Place to live, work, raise a family, and achieve the American dream."
###