Governor Gianforte: Proactive Management Protects Montana
Governor Completes Second 56 County Tour in Lewis and Clark County
HELENA, Mont. – At a press conference today with officials from the Montana Department of Natural Resources and Conservation (DNRC) and City of Helena, Governor Greg Gianforte emphasized the value of active forest management to reduce the risk of catastrophic wildfire in Montana.
"When a forest is managed, we have less severe wildfires, more recreational opportunities, more habitat for wildlife, and more jobs in our communities," Gov. Gianforte said. "The work done here in Helena is a real testament to that, and my hat's off to our local partners for proactively managing this area to reduce vulnerability to wildfire."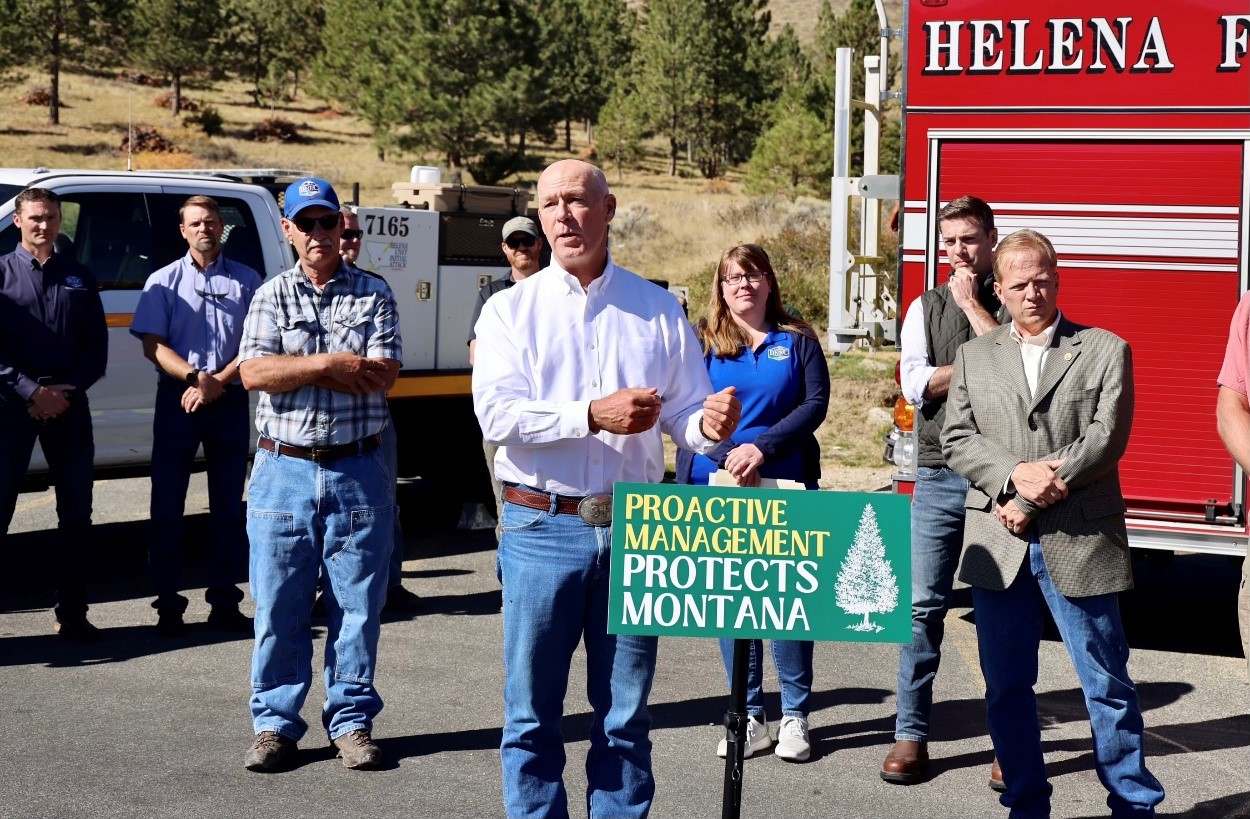 Gov. Gianforte answers a question from a reporter during a press conference on Mount Helena
In the wake of recent fires in the wildland urban interface in Helena, including the Mount Helena Fire and Grizzly Gulch Fire, officials have attributed the success of those responses in part to fuels mitigation work done over the last decade in the area.
"It's our work with our partners – the U.S. Forest Service and the Montana DRNC – that's allowed us to increase the intensity of management within the [Mount Helena] park and accelerate our pace," said Brad Langsather, open lands manager for the City of Helena. "The positive outcome that we saw a few weeks ago proves that this type of work has its merits."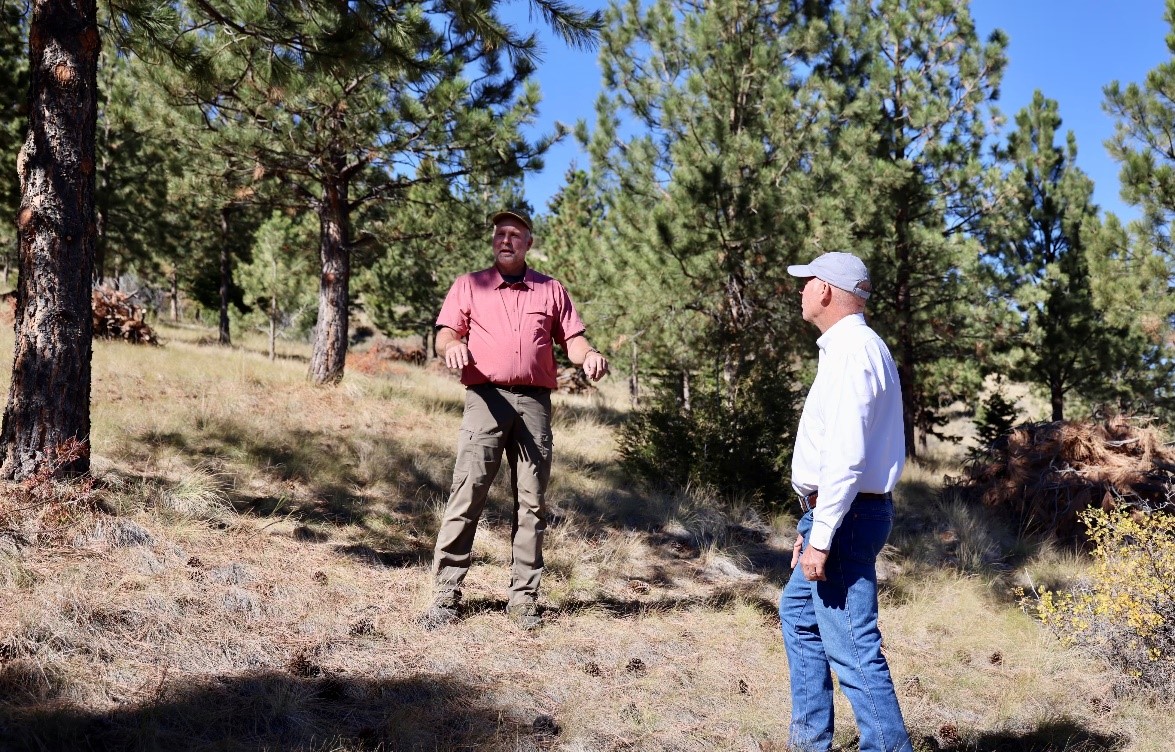 Gov. Gianforte receives update on recent fuels mitigation work on Mount Helena from Brad Langsather
Working with partners to increase the number of forested acres treated in Montana is a top priority for the governor. In 2021, DNRC more than doubled the number of acres treated in Montana, placing a collective 25,000 acres under management.
At the 2022 Fire Briefing in May, Gov. Gianforte called on partners to work with the state to bring more private, state, tribal, and federal acres under management.
In the spirit of that collaboration, DNRC Director Amanda Kaster announced during today's press conference an expansion to the Good Neighbor Authority agreement between DNRC, the Natural Resources Conservation Service, and the Helena-Lewis and Clark National Forest.
"Under the expansion, $238,000 in funding will treat up to 1,270 acres of Forest Service ownership in the Ten Mile-South Helena and Middleman areas," Kaster said. "Additionally, $15,000 dollars is provided for weed treatment on 250-plus acres on the Helena Ranger District."
"I want to applaud the work of all the partners involved that continue to make this work possible," the director continued.
Gov. Gianforte also praised DNRC for effectively employing a strategy of aggressive attack on wildfire this season, a strategy the governor has urged all the state's partners to adopt.
Of the 267 fires this year under DNRC's direct protection, a total of 525 acres have been burned for an average of less than two acres per fire.
"Small fires are easier to put out than big fires, which is why we adopted a policy of aggressive attack on all fires and asked our federal partners to do the same," Gov. Gianforte said. "I'm so proud of our firefighters this year – they did heroic work, getting out there and getting the job done."
Marking the final stop on the governor's 2022 56 County Tour, the press conference in Lewis and Clark County featured remarks from Governor Gianforte, DNRC Director Amanda Kaster, City of Helena Commissioner Andy Shirtliff, and City of Helena Open Lands Manager Brad Langsather. 
After the press conference, the governor received an update on the multiple projects underway and toured a fuels work area on Mount Helena.
###