Governor Gianforte Praises Butte's Fentanyl Action Team
Town Pump Charitable Foundation announces $100,000 donation for community awareness 'shock' campaign
BUTTE, Mont. – At a roundtable today in Butte, Governor Greg Gianforte praised the work and leadership of the Butte community fentanyl action team to combat the fentanyl crisis.
"We're losing lives at the hands of fentanyl, and Butte is really leading the fight against fentanyl at the community level, serving as a model for communities across Montana," Governor Gianforte said. "They're stepping up to get the message out that one pill can kill. I encourage other communities to urgently follow their lead and save lives, and my administration will help support their efforts however we can."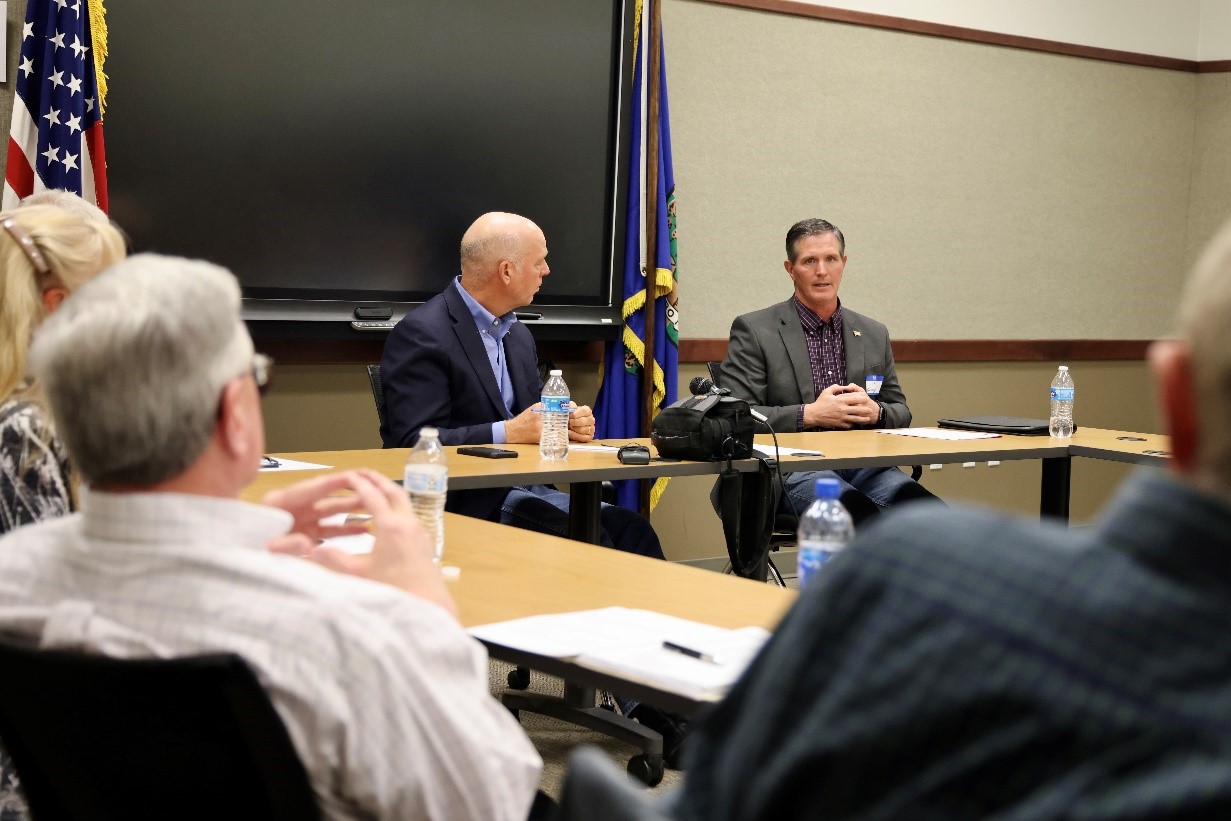 Gov. Gianforte listens to J.P. Gallagher, chief executive of Butte-Silver Bow
Last month, local leaders in Butte stood up a community action team to address the fentanyl crisis, bringing together stakeholders in business, health care, treatment, law enforcement, local government, faith, and education.
Convening the group for its second meeting today, Father Patrick Beretta, parish priest at St. Patrick and Immaculate Conception Churches in Butte, and J.P. Gallagher, chief executive of Butte-Silver Bow, spoke to the impact fentanyl has had on their community.
"Law enforcement is battling a giant," Gallagher said. "I've had a college teammate who lost his son, I had a former student who died from taking one pill. We have this room full of so many people who want to be a part of solving this. Frankly, this is what Butte does."
Father Beretta added, "This crisis became intensely personal to me after I lost, in my parish alone since the beginning of the year, three young men. I've seen the devastation and grief that the tragedy leaves behind on the family – and it affects me, these were my children, in many, many ways."
During the roundtable, the Town Pump Charitable Foundation announced a $100,000 donation to launch a 'shock campaign' to increase awareness in the Butte community.
Describing fentanyl as the biggest crisis facing Butte today, Bill McGladdery, director of the Town Pump Charitable Foundation, said, "Fentanyl overdoses have taken a toll on the Butte community. We've had young people die because of one poor choice. The business community here in Butte are advocates for developing a hard-hitting, shock campaign aimed at the youth of our community."
Scheduled to launch in mid-November, the campaign will include locally targeted social media ads on YouTube, Hulu, Snapchat, and other platforms, a website and Facebook page, and electronic communications to the Butte community.
Statewide and across the country, law enforcement is seizing record amounts of fentanyl, a deadly drug 50 to 100 times more potent than morphine. According to the Montana Department of Justice, Montana is on track to triple the amount of fentanyl seized this year from the record-breaking amount seized in 2021.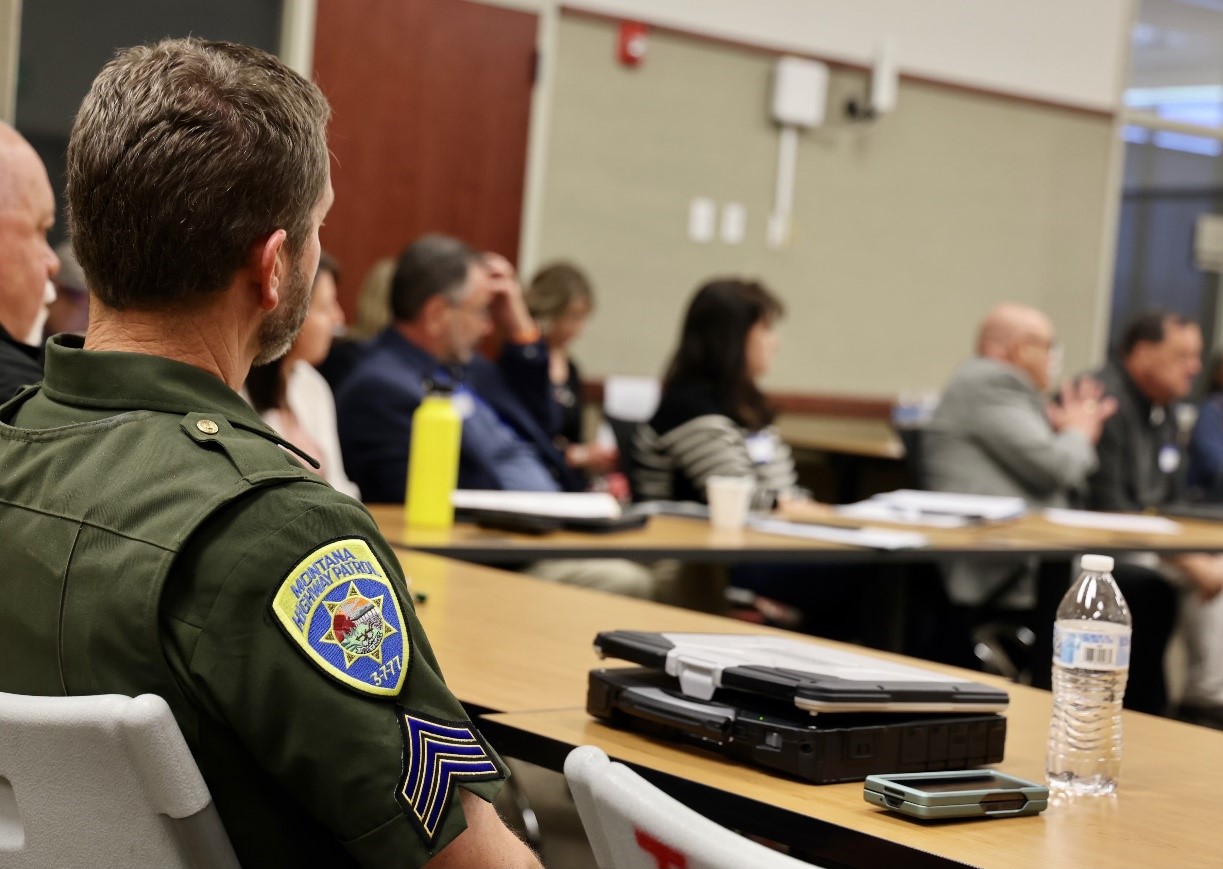 Community action team members pictured at the governor's roundtable
At an August press conference in Gallatin County with U.S. Senator Steve Daines, Congressman Matt Rosendale, Attorney General Austin Knudsen, and state and local law enforcement, the governor urged the Biden administration to secure the southern border amid record fentanyl seizures in Montana.
Absent federal action, Gov. Gianforte this spring joined the American Governors' Border Strike Force, a collaborative effort among 26 states to secure the border. Among other focuses, the strike force is working to improve coordination and communication to combat the trafficking of illegal drugs.
"We must do everything we can to combat this crisis, like the folks here in Butte are, and that's why I'm calling on President Biden to act to secure the border and stop fentanyl," Gov. Gianforte said.
Since taking office, the governor has prioritized increasing access to community-based treatment services for non-violent offenders to build safer, stronger communities, creating the HEART (Healing and Ending Addiction through Recovery and Treatment) Fund and Angel Initiative.
A collaborative effort among Governor Gianforte, DPHHS, participating law enforcement entities, and treatment providers, the Angel Initiative allows someone who is struggling with addiction and substance use to go into any participating law enforcement office and receive assistance to connected with treatment. To date, over 20 Montana sheriffs' offices have committed to join the effort, including Silver Bow County.
The HEART Fund, introduced by the governor during his first week in office as a central component of his budget, invests $25 million per year to provide a full continuum of substance abuse prevention and treatment programs for communities.
Treatment courts, another effective tool in combatting the drug crisis and focus of the Gianforte administration, were also a topic of discussion.
In August, Gov. Gianforte convened a public safety roundtable with local officials, treatment providers, and law enforcement officers in Butte as the crisis at the U.S. southern border drives up drug interdictions, drug use, and crime in Montana, and throughout the country. The governor has convened similar roundtables focused on public safety with local officials in Billings, Great Falls, Kalispell, Big Timber, and Missoula earlier this year.
###