Governor Gianforte, Lieutenant Governor Juras Cut Red Tape
Administration partners with legislators and industry leaders to deliver red tape relief
HELENA, Mont. – Alongside Lieutenant Governor Kristen Juras, legislators, and industry leaders, Governor Greg Gianforte today celebrated the work of his Red Tape Relief Task Force and legislators to deliver Montanans red tape relief.
"For too long, government red tape has stood in the way of Montana reaching its full, outstanding potential," Gov. Gianforte said. "Together, we're making government more efficient and responsive to better serve Montanans. Together, we're removing burdensome, outdated regulations so more Montanans can prosper."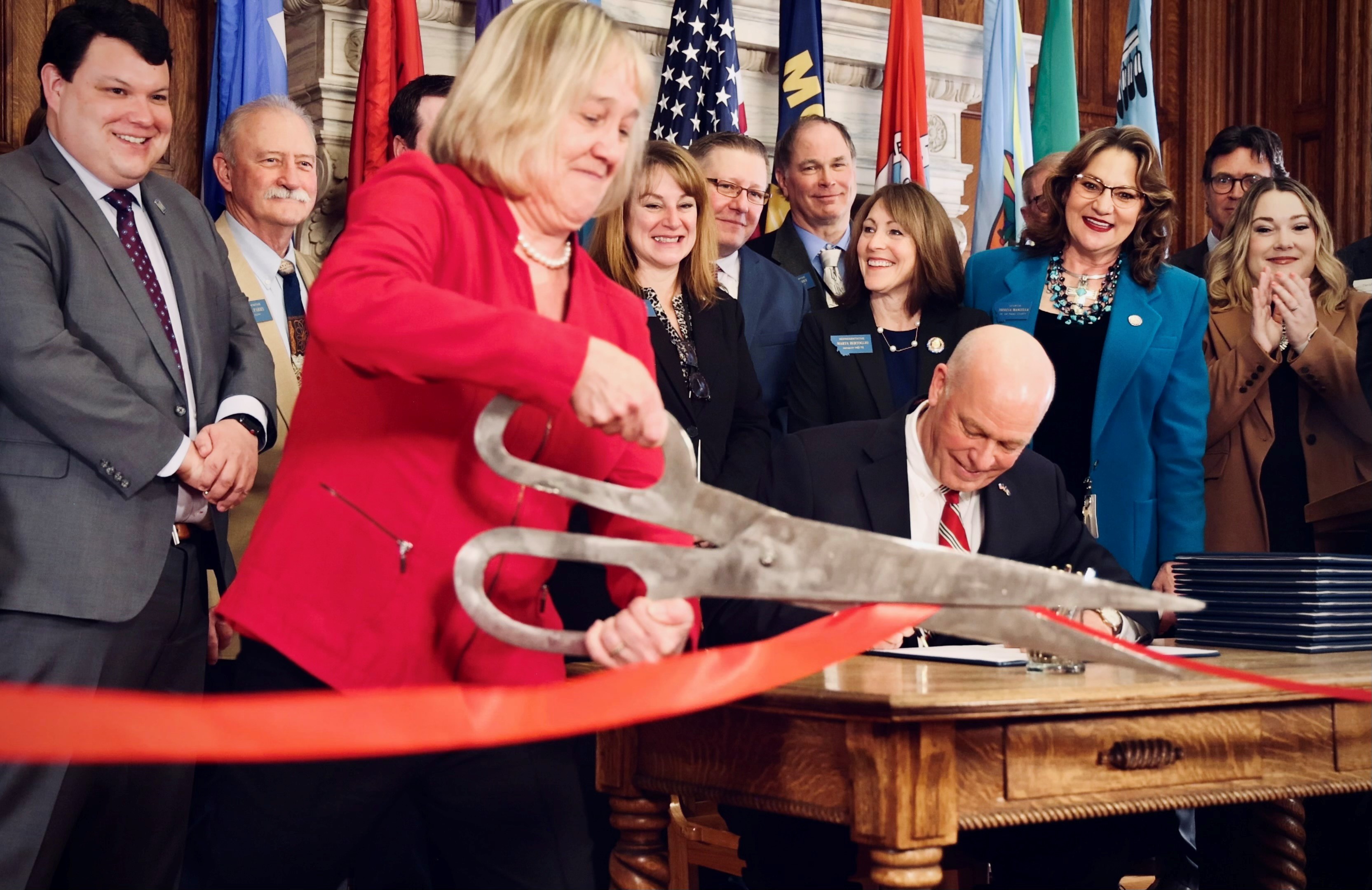 Gov. Gianforte, Lt. Gov. Juras, and legislators deliver Montanans red tape relief
In his first week in office, Gov. Gianforte established the Red Tape Relief Task Force through executive order to conduct a comprehensive, top-to-bottom review of regulations in every state agency.
Led by Lt. Gov. Juras, the task force worked with legislators to introduce 188 red tape relief bills this session, over 100 of which have already been signed by the governor. Taken together, the bills simplify and modernize code, make government more efficient, and create greater opportunity for Montanans.
"We looked at each and every one of our 15,000 regulations, identifying where we can cut red tape to better serve Montanans," Lt. Gov. Juras shared. "And we're just getting started, there's still red tape out there that needs cutting."
Industry leaders who have championed red tape relief joined the governor and lieutenant governor at the event.
Raylee Honeycutt, Executive Vice President of the Montana Stockgrowers Association, spoke to the benefit of red tape relief for Montana ranchers saying, "The work the administration has done to eliminate barriers for our business will not only have impacts here in Helena, but will also profoundly impact the lives and businesses in the livestock industry across Montana."
Speaking on behalf of contractors, David Smith, Executive Director of the Montana Contractors Association, added, "It's important to note that we're not just talking about policy changes. We know this relief is at work because since February of 2020, there are over 5,000 more people employed in the construction trades in Montana. Thank you, Governor and Lieutenant Governor, for this initiative to make Montana open for business."
Todd O'Hair, who leads the Montana Chamber of Commerce as president and CEO, also praised the administration's work to provide red tape relief. "This regulatory reform applies to each one of the strategic pillars that we have and that we're focused on, from entrepreneurship to workforce development, infrastructure, and general business climate. These are important, foundational steps to give the State of Montana the economy we actually deserve," O'Hair said.
To conclude the event, the governor signed ten bills delivering Montanans red tape relief, including SB 57 and SB 43.
Sponsored by Sen. Theresa Manzella, R-Hamilton, at the request of the Montana Department of Transportation, SB 57 removes red tape from procurement at the department to improve delivery of services and save taxpayer dollars.
"With less red tape, the state will be able to use more innovative contracting methods to complete necessary projects – like repairing roads and bridges – more quickly, and for less money," the governor said.
SB 43, sponsored by Sen. Willis Curdy, D-Missoula, at the request of the Montana Department of Natural Resources and Conservation, modernizes code to allow the department to more broadly, effectively advertise timber sales.
"I could go on and on about our work to cut red tape, but the long and short of it is this: red tape relief makes a real, meaningful difference for all Montanans. And the good news is – we're just getting started," Gov. Gianforte concluded.
Gov. Gianforte's press conference may be viewed here.
###