Governor Gianforte, DPHHS To Cut Red Tape To Expand Child Care Access
LIVINGSTON, Mont. – After reading to children and meeting with child care providers at PFL Learning Center, Governor Greg Gianforte today announced proposed red tape relief to expand access to affordable, high-quality child care for Montana families. Department of Public Health and Human Services (DPHHS) Director Charlie Brereton joined the governor for the announcement.
"Complicated, burdensome rules shouldn't prevent a family member or neighbor who's providing child care from meeting a critical need in their community," Gov. Gianforte said. "Today, we're proposing a new set of child care licensing rules which will ensure the safety of our children, clarify provider obligations, and dramatically increase access to child care across Montana."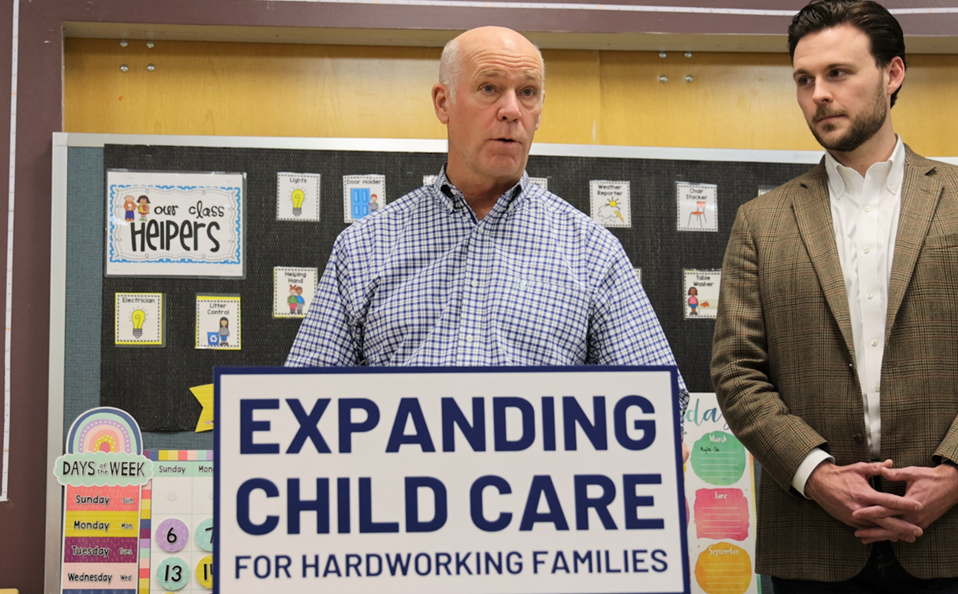 Gov. Gianforte announcing an overhaul of child care licensing rules to expand access to safe, high-quality care
Improved in response to calls from providers and industry stakeholders, the new child care licensing rules eliminate unnecessary barriers to licensure and employment for child care providers.
"We heard loud and clear from stakeholders that the current rules and governance structure for child care were in need of a massive overhaul," Brereton said. "We're proud to keep this overdue project moving forward and carry it across the finish line soon. Montana providers are clearly in need of clarity and regulatory relief, and we will continue to take steps to make quality and affordable child care a reality for more Montana families."
In its rules review process, DPHHS engaged many diverse stakeholders to better understand the strengths and downfalls of the current licensing system. The agency conducted a child care assessment of more than 700 child care facility owners and staff, parents, employers, state and local agency partners, legislators, and other interested parties through surveys, interviews, focus groups, and site visits.
Child care provider Carly Temyer, director of the PFL Learning Center where the governor announced the rules, took part in the child care assessment.
"We look forward to reviewing the proposed rules and providing further feedback on them," Temyer said. "We also appreciate the governor's dedication to improving the child care system in Montana. Access to quality child care is such an important factor for our employees, and we're proud to be doing business in a state that is actively working to reduce unnecessary red tape for providers like us." 
While at the center, the governor read Dr. Seuss' "The Cat in the Hat" to the kids.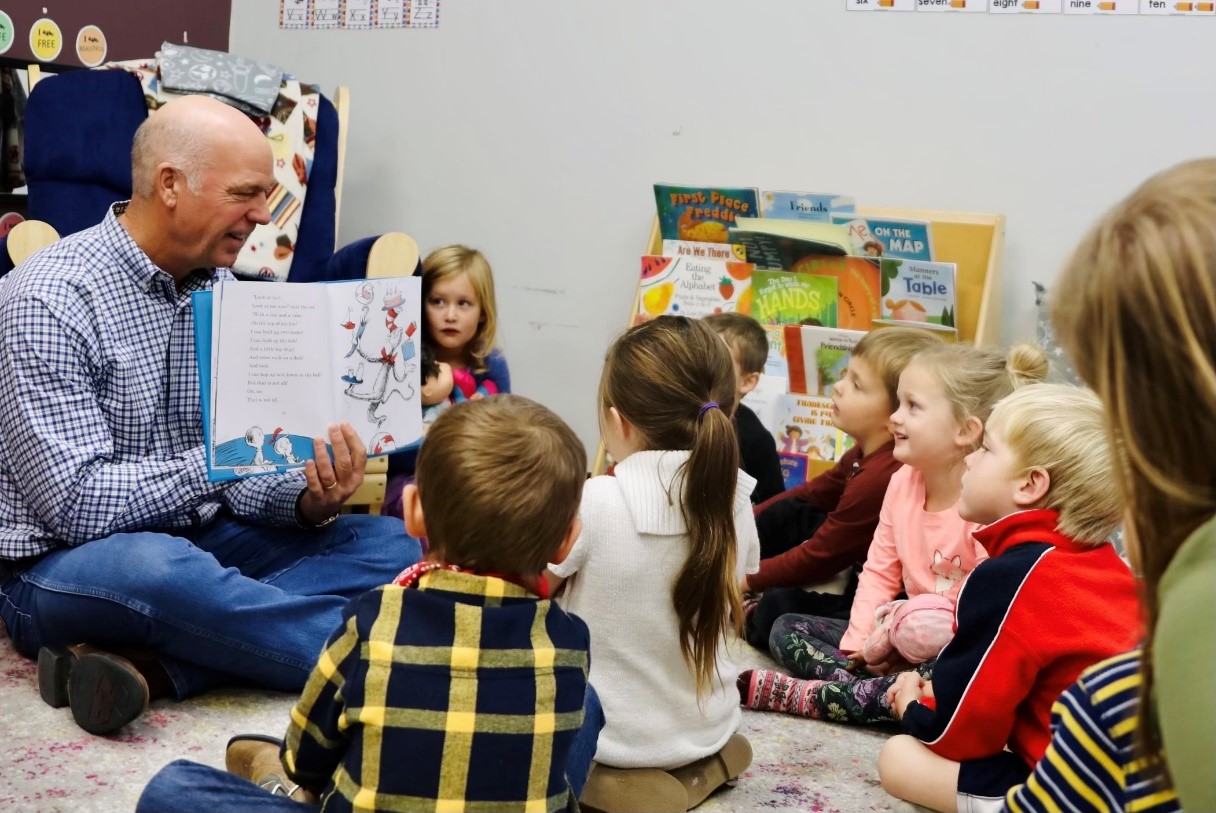 Gov. Gianforte reading to kids at PFL Learning Center in Livingston
Several proposed rules aim to increase child care capacity, including by permitting providers to develop innovative pilot projects to test new approaches to child care delivery.
Other proposed rules address program staffing requirements, which were identified by stakeholders as important and necessary to grow Montana's child care system and workforce.
In addition, one of the rules adds a new care category called out-of-school-time care. This change is expected to allow providers who offer out-of-school-time care the option to become licensed. This would include organizations such as Boys and Girls Clubs, YMCAs, and others providing care to children ages six and up during non-school hours. Licensure with the state would make these providers eligible to receive certain federal funds.
Rachel Wanderscheid of the Montana Afterschool Alliance, a network organization that supports afterschool programs, participated in a focus group as part of the child care assessment. She said she's pleased to learn of the proposed option for out-of-school-time care. As a new child care licensing category, Wanderscheid envisions it could benefit both families and those providing the care.
"We are really grateful the school-age voice was included in the discussion and are excited for out-of-school-time care organizations to have the option to become licensed if the proposed rules are adopted," Wanderscheid said. "School-aged programs are integral for Montana's communities, families, and youth. We are very glad the Gianforte administration's proposed rules package is expanding child care capacity in Montana and includes more options for programs serving older children."
A public hearing on the proposed rules package is set for Monday, Nov. 28 at 9 a.m. via Zoom. DPHHS is accepting public comments through 5 p.m. on Friday, December 2. As part of the rulemaking process, the department will carefully consider additional comments received before it finalizes the proposed rules.
The proposed rules package and a summary document can be found here and here.
###