Governor Gianforte Convenes Roundtable on Declining Trout Populations in the Jefferson Basin
WISE RIVER, Mont. – Amid low trout counts in the Jefferson Basin, Governor Greg Gianforte yesterday convened a roundtable discussion in Wise River with fishing guides, anglers, irrigators, ag producers, biologists, and Montana Fish, Wildlife and Parks (FWP) Director Dustin Temple.
"Montana's prized rivers and waterways are a part of what define our way of life and they support the livelihoods of thousands of Montanans," Gov. Gianforte said. "Working together, we can build consensus and solutions to address low trout counts in the Big Hole and surrounding areas."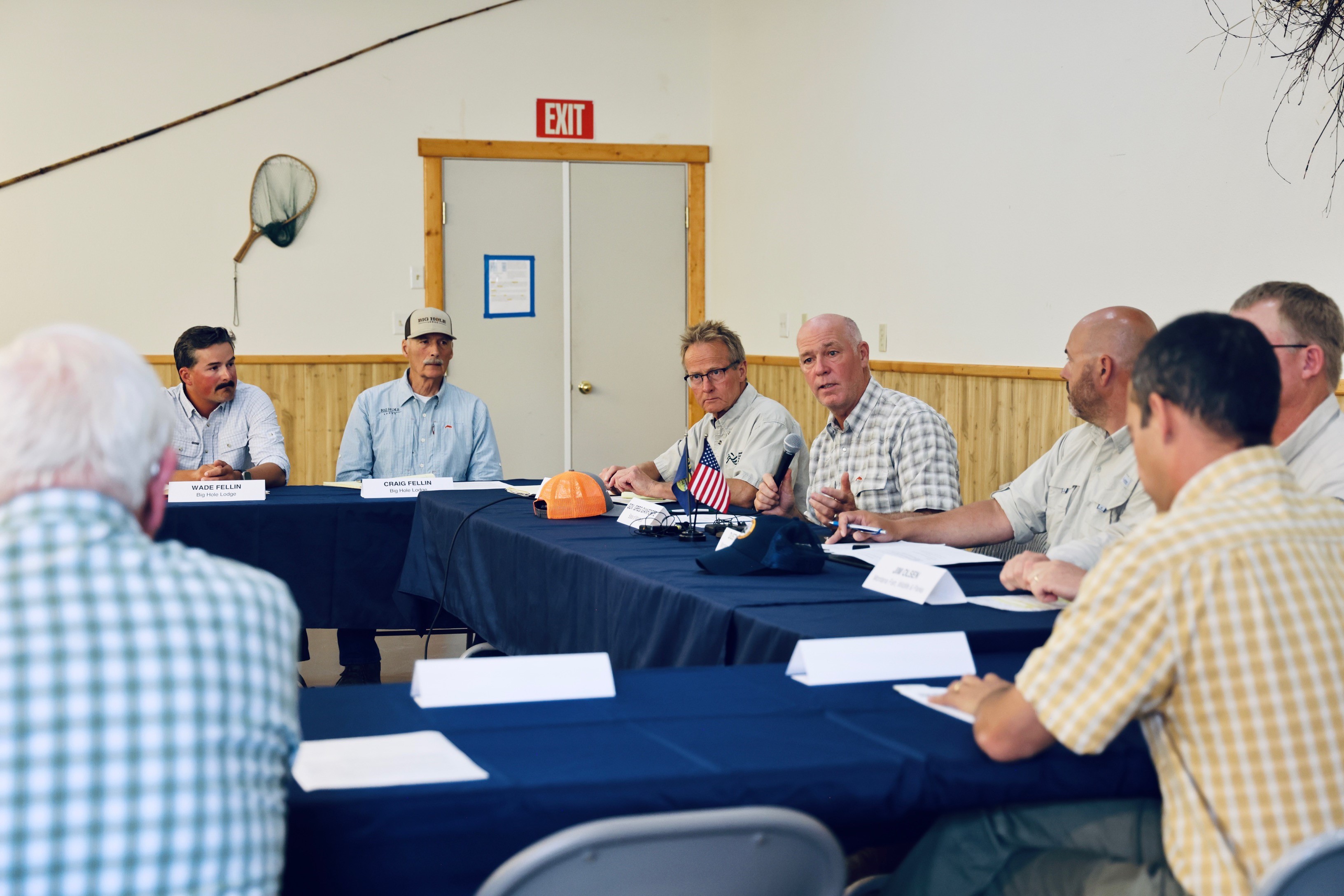 Gov. Gianforte holding roundtable discussion on low trout counts in the Jefferson Basin
Trout populations have steadily declined in several areas of the Big Hole, Beaverhead, and Ruby rivers since 2011.
In response to population declines, FWP, in partnership with Montana State University (MSU), has launched several research efforts to study fish mortality, juvenile fish, and fish health and to better understand the causes of these declines, which are linked to flows, water temperature, disease, and other factors.
FWP also launched sickfish.mt.gov to encourage Montanans to report sick or dying fish.
At the Wise River Community Foundation yesterday, Dr. Al Zale, MSU professor and leader of the Montana Cooperative Fishery Research Unit, spoke to research underway.
"We have a lot to learn and find out. That's what my students and I will be doing, we've been doing that in collaboration with other faculty there at MSU, and then also working closely with FWP," Dr. Zale said.
Representing guides and anglers, the governor also heard from the Founder of Big Hole Lodge Craig and Wade Fellin on concerns about low trout counts, and the need for collaboration to resolve the issue.
"With the help of our governor, FWP department, Big Hole River Foundation, Save Wild Trout, Big Hole Watershed Committee, guides and outfitters, general public, and private donors – we can beat whatever is taking our wild trout. We all need to work together as one big team," Craig Fellin said.
Also represented at the roundtable were irrigators and ranchers.
"We know a lot about this river because it is our life," Jim Hagenbarth, rancher and founding member of the Big Hole Watershed Committee, said.
The meeting was also open to public comment, with over 100 ag producers, anglers, and irrigators present to share their concerns and discuss solutions.
Concluding the discussion, Gov. Gianforte encouraged residents to continue to make their voices heard.
"Addressing this issue must involve all of us working together. Let's continue to strengthen our partnership and develop meaningful, consensus-driven solutions," the governor concluded.
###