Governor Gianforte Announces Record Apprenticeship Growth in Montana
BILLINGS, Mont. – At a construction site in Yellowstone County, Governor Greg Gianforte today announced the number of new apprenticeships in Montana this year is on track to surpass the number for 2018, 2019, and 2020 combined.
"A four-year college degree isn't the path for everyone, and Montana needs more carpenters, plumbers, welders, and electricians like those I met today," Gov. Gianforte said. "Through apprenticeships, we're promoting access to good-paying careers, and it's paying off. Montana has added a record 700 new apprentices so far this year."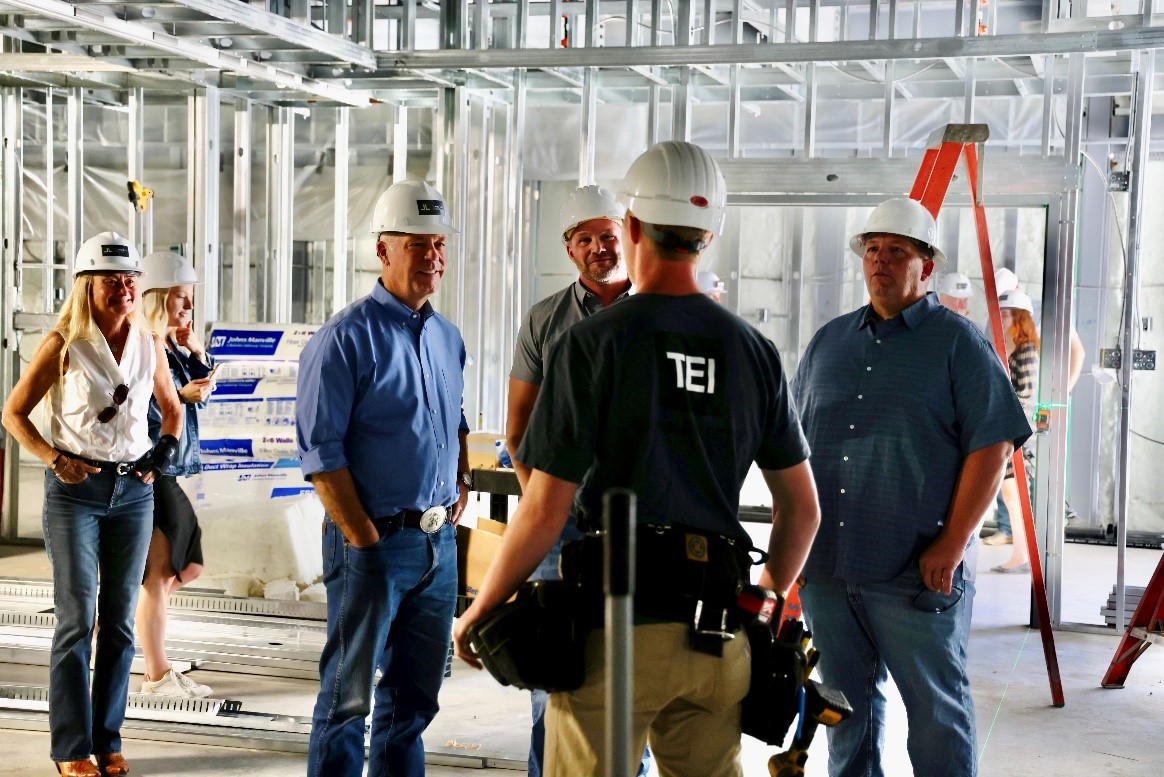 Gov. Gianforte talks with an electrical apprentice with Tounsley Electric
Montana's Registered Apprenticeship program, administered by the Department of Labor & Industry, enables workers to receive paid, supervised, on-the-job training in more than 100 different occupations across Montana. Tounsley Electric, whose owners and apprentices the governor met with today, is an employer sponsor in the program.
Since January 1, the program has added nearly 700 new apprentices and 60 new employer sponsors, many of which were added following a rule change championed by the governor.
While preserving workplace safety and training standards, the rule change revised the previous journeyman to apprentice ratio of 2:1 to 1:2, allowing one journeyman to supervise two apprentices.
The change drastically expanded access to apprenticeships for Montana workers, and it also made Montana more competitive with its neighbors. Wyoming allows 2 apprentices to 1 journeyman, North Dakota allows 3 apprentices to 1 journeyman, and Idaho allows up to 4 apprentices to 1 journeyman.
Jason Tounsley, president of Tounsley Electric, spoke to the impact the rule change has had on his business.
"There's a serious shortage of licensed journeyman electricians in the state. Being able to sign up more apprentices, train them up, and get them licensed so we have a more robust workforce is a big deal for us," Tounsley said. "We can take on a lot more work this way."
While on the jobsite today, the governor heard from apprentices on why they're pursuing a good-paying career in the trades, including Owen, an apprentice still in high school.
"I'm learning on the job, and I'm getting paid while I learn," Owen said. "It's pushing me ahead because I get to work, learn, and have a career all at the same time."
After the visit, the governor added, "Montanans have more opportunities than ever before to learn a new skill and secure a great-paying job in an in-demand field. I encourage folks who are interested to explore the opportunities available to them."
Montanans can learn more about Montana's Registered Apprenticeship Program by visiting apprenticeship.mt.gov.
###