Governor Gianforte Announces Bold, Transformational Pro-Housing Zoning Reform
HELENA, Mont. – Advancing his pro-housing agenda for Montana, Governor Greg Gianforte today signed four zoning reforms bills into law to encourage responsible, proactive housing development and protect rural areas and ag land from sprawl.
"Zoning regulations constrict housing supply and make affordable housing less accessible," Gov. Gianforte said. "We're removing these roadblocks so Montanans can better afford to live in the communities where they work while protecting our treasured wide-open spaces."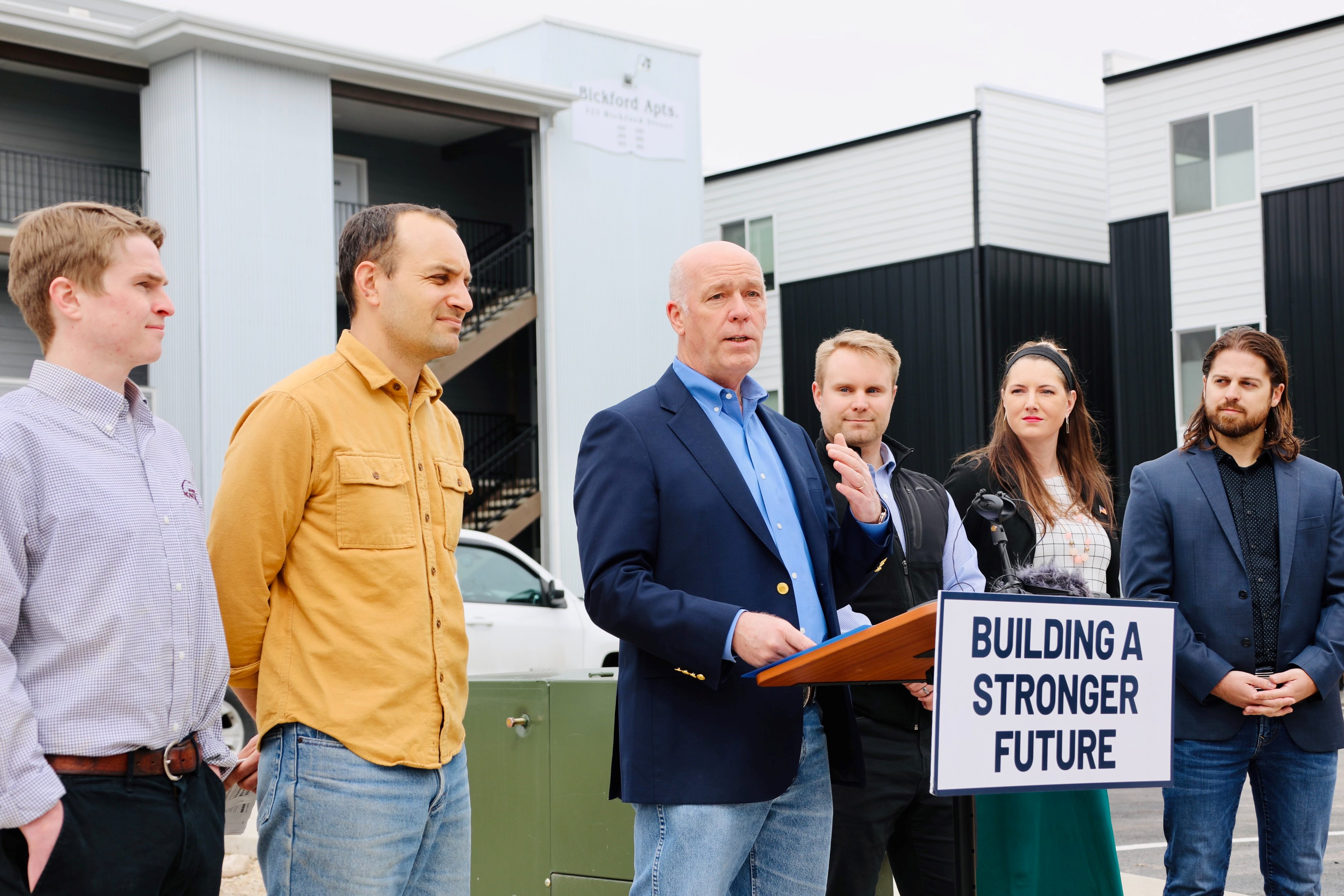 Gov. Gianforte calling for pro-housing reform with advocates in March 2023
Governor Gianforte's Housing Task Force, launched in July 2022, identified zoning reform as a top priority for the 2023 Legislative Session.
Delivering one of the task force's recommendations, the governor today signed into law the Montana Land Use Planning Act to advance pro-housing reforms in local jurisdictions.
Sponsored by Sen. Forrest Mandeville, R-Columbus, Senate Bill 382 broadly reaffirms landowners' rights to construct affordable starter homes, establishes pro-housing reform options local governments must select from to encourage housing development, and requires local governments to reform zoning regulations to meet future housing needs.
"After years of doing the same thing over and over, it's critical we do something different. We're changing our approach with the Montana Land Use Planning Act," Gov. Gianforte said.
The governor also signed into law two bills to give landowners more freedom to respond to housing needs in Montana. Senate Bill 528, carried by Sen. Greg Hertz, R-Polson, restores landowners' rights to build affordable starter homes by allowing accessory dwelling units, while Senate Bill 245, sponsored by Sen. Daniel Zolnikov, R-Billings, expands landowners' ability to build new homes in urban areas to protect rural areas and ag land from sprawl.
Earlier this month, the governor signed Senate Bill 323, sponsored by Sen. Jeremy Trebas, R-Great Falls, to allow duplex housing in city zoning.
"Ending exclusionary zoning will increase access to starter homes, like duplexes. We got it done," Gov. Gianforte said.
Rounding out zoning reforms, the governor signed Senate Bill 407, sponsored by Sen. Shane Morigeau, D-Missoula.
The new law streamlines permitting for commercial and residential development by eliminating local design review by volunteer boards, reducing costs associated with permitting delays.
"Montanans in every corner of our state tell me they're concerned about the rising cost of housing. Coming together, we've delivered the most meaningful pro-housing reforms in state history, and our work for hardworking Montanans won't stop," the governor concluded.
###