Gov. Gianforte Marks Launch of Montana's Newest CTE Program at Helena College
HELENA, Mont. – Joining the Finishing Trades Institute of the Upper Midwest (FTIUM) and the International Union of Painters and Allied Trades (IUPAT), Governor Greg Gianforte today promoted a new Career and Technical Education (CTE) program at Helena College. 
"Many good-paying jobs that are in high demand require specialized skills, and finishing jobs are no exception," Gov. Gianforte said. "Working with the legislature, we funded this new finishing trades program to create greater opportunity for hardworking Montanans and strengthen our workforce in a critical industry."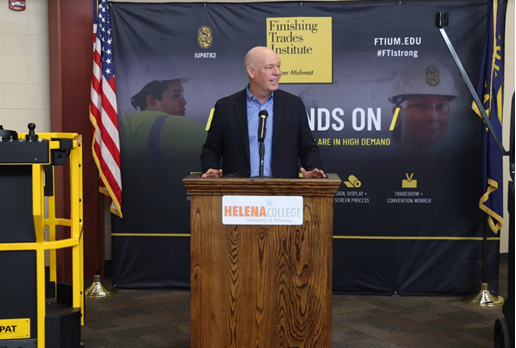 Gov. Gianforte promoting Montana's newest CTE program at Helena College 
Set to begin in April, the new finishing trades program will focus on preparing finishing trades for Montana's workforce, including painting, drywall finishing, and glazing. During the 67th Legislative session, the Legislature passed and the governor signed HB 2 which provided funding for the program. FTIUM and IUPAT are contributing $1.5 million of investment for the public-private partnership. 
"We are proud to bring our successful new model for higher education in the finishing trades to Big Sky Country," John Burcaw, Director of Academic Education at the Finishing Trades Institute of the Upper Midwest said. "This apprenticeship program will help train the next generation of Montana workers and help fill critical high skilled jobs in the workforce." 
In his visit to Helena College this morning, the governor participated in a virtual reality demonstration which will be used by students in the program. 
"The mission of the two-year college is to serve the local community – to be responsive to the needs of students but also to serve employers by helping meet workforce training needs," Sandy Bauman, Dean of the Helena College, University of Montana said. "This partnership between Helena College and the Finishing Trades Institute of the Upper Midwest is a shining example of how a public-private partnership can do just that. On behalf of the Helena College, I'd also like to thank Governor Gianforte and legislative leaders who have made this possible." 
Promoting trades education and apprenticeship opportunities to empower Montanans with in-demand skills, create better-paying Montana jobs, and build a stronger workforce is a central element of the governor's Montana Comeback Plan. 
###