Gov. Gianforte, Local Leaders Partner to Improve Public Safety in Billings and Yellowstone County
BILLINGS, Mont. – Governor Greg Gianforte today convened a roundtable with local officials to address efforts by state and local partners to improve public safety in Billings and Yellowstone County.   
"Since the start of the pandemic, we've seen a dramatic increase in drug-related and violent crime nationwide, including here in Billings and Yellowstone County. These crimes threaten public safety, leave victims and their families traumatized, and leave people wondering if they're safe," Gov. Gianforte said. "Rather than sitting idly by, we're taking action, investing more than $2.3 million to complement local public safety efforts in Billings and Yellowstone County."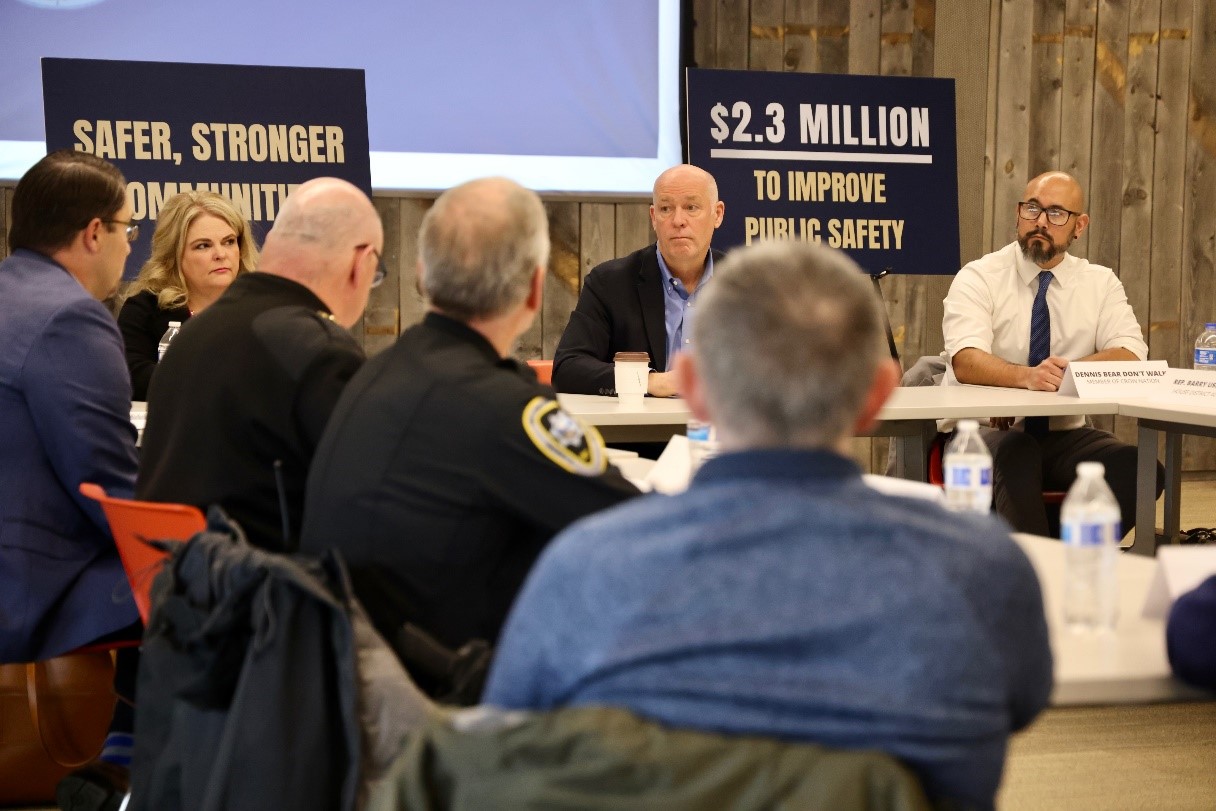 Gov. Gianforte discussing strategies to improve public safety in Billings and Yellowstone County with local leaders and drug treatment advocates. 
In addition to the impact on victims and their families, the governor emphasized how crime drives down property values, drives up insurance premiums, prevents new businesses from opening, and forces existing businesses to close in the face of repeated thefts, violence in and around their location, and the loss of their customers.
According to Project Safe Neighborhoods data from the Billings Police Department, violent crime increased dramatically in the city during the pandemic. Partner or family member assault charges increased 48% from 2019 to 2020, and strangulation charges increased 35% from 2019 to 2020.
In November, Gov. Gianforte announced the State of Montana is investing more than $2.3 million to complement local public safety efforts in Yellowstone County. Recommended to the governor by the ARPA Economic Transformation and Stabilization and Workforce Development Advisory Commission, the funds complement investments to improve public safety from Yellowstone County and the City of Billings.
At the roundtable, the governor asked participants what strategies are and aren't working to combat crime. He also asked how crime is impacting staffing and recruitment of law enforcement officers, how to best improve and expand drug treatment programs, and what local leaders need from the state to improve public safety.
"This is the most important issue facing Billings and Yellowstone County right now…our crime situation, mental health, criminal justice system, and substance abuse," Billings Mayor Bill Cole said. "You push your finger in the middle of the balloon, and it moves some place else. There's so many components, but that's why it's great to have so many people talking about the complexities and looking for solutions."
Recognizing the role drugs play with crime, Gov. Gianforte said, "While there's no silver bullet to end the drug epidemic, we're taking steps to confront it. By creating the Angel Initiative and HEART Fund, we're providing Montanans battling addiction the tools they need to get clean, sober and healthy."
Sheriff Mike Linder, who is partnering with the state through the Angel Initiative, added, "Today was a great opportunity to meet with the governor and other people with a stake in public safety in our community. There's not an easy fix. There are a lot of components. We just need to find a way to deal with these issues, and deal with them in a collective manner."
Other participants in the roundtable included Montana Sen. Tom McGillvray of Billings; Billings Chief of Police Rich St. John; Yellowstone County Attorney Scott Twito; Billings City Attorney Gina Dahl; Judge Mary Jane Knisely of the 13th Judicial District; Montana Department of Corrections Director Brian Gootkin; Bryan Lockerby, division administrator with the Montana Department of Justice's Division of Criminal Investigation; Yellowstone County Commissioners Denis Pitman and John Ostlund; Dennis Bear Don't Walk of Crow Nation; Rimrock's Chief Nursing Officer Christi Beals; and Jimmy Patelis, member of the Montana Board of Pardons and Parole.
###